Title: Animation Runner Kuromi aka Animation Seisaku Shinkou Kuromi-chan
Company: Yumeta Co.
Genre: Comedy
Format: 1 OVA
Dates: 30 Mar 2001
Synopsis: Kuromi has just gotten the job of her dreams, an internship at the famous animation studio, Studio Petit. Only when she arrives for her first day of work does she find out that she is now overseeing production of Time Journeys episode 2 (The former head of production "gave his life to anime"). Will Time Journeys episode 2 be completed in time to air? Or more importantly will Kuromi survive the pressures that come with making a weekly anime series?
The Highlights
Plot: Insightful and informative look into anime production.
Characters: Undeveloped.
Comedy: Falls flat.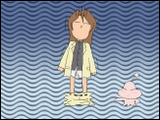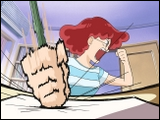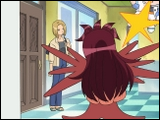 Anime has had its fair share of mockumentaries over the years. The best of these give the viewer a little more appreciation for the chosen aspect of anime by providing a candid look at the people and process involved, as well as giving us a good laugh (sometimes at ourselves). Some, like Comic Party, succeed, while others *cough* Cosplay Complex *cough* simply "mock" rather than "ment". So where does Animation Runner Kuromi fall?
Animation Runner Kuromi gives us an excellent behind the scenes look at how anime is made. Covering everything from key animation to in-between work, Animation Runner Kuromi covers all the parts of production necessary to create an anime. Not to leave any stone unturned, the love-hate relationships that the directors have with the animators are also shown through the strange behaviors of the animators Kuromi has to collect the animation cuts from. This part of anime production could easily have been overlooked, but Daichi Akitaroh made sure to leave in this crucial part of the process.
Speaking of the characters, that is where Animation Runner Kuromi fails to impress. Granted, with a runtime of forty minutes there really wasn't much time to work with them, and as a result we are left with about a minute of character development. Since the characters can't really be laughed at for who they are, the comedy relies on slapstick and verbal humor, which barely made me crack a smile. As if it were easy to sympathize with Kuromi (it isn't), you can only hear her scream in frustration so many times before it ceases to amuse.
Animation Runner Kuromi successfully documents its subject material, but fails to humorously parody the process of animation. Watching Animation Runner Kuromi will give you more appreciation for all the hard work that goes into the anime that we all love so well. So the next time you want to complain about inconsistent animation quality or contrived endings, think of Animation Runner Kuromi and remember the plight of those who live with weekly deadlines the likes of which most people can't even imagine.
The Rating: 6

Reviewed by: Kuma